With over 60 years of experience, if it's out there we've seen it and tried it
There are so many wonderful options today—too many to list. We've featured some popular brewers here, but there are no limits to what we can provide. If you are interested in something that you don't see listed, don't hesitate to get in touch. Whether large or small, we've got you covered. Let us help find the right solution for you!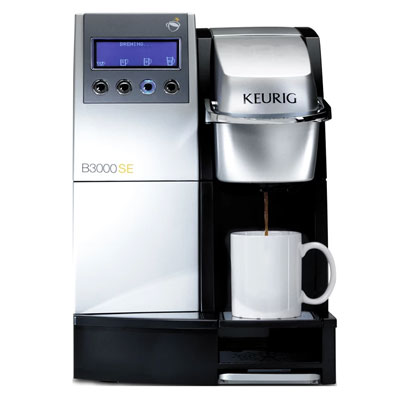 Keurig
B3000SE
Designed for large offices, the full-featured B3000SE is ideal for break rooms, employee cafeterias and client coffee service. It is Keurig's largest and most popular brewer to date, packed with dozens of features designed for the largest of offices.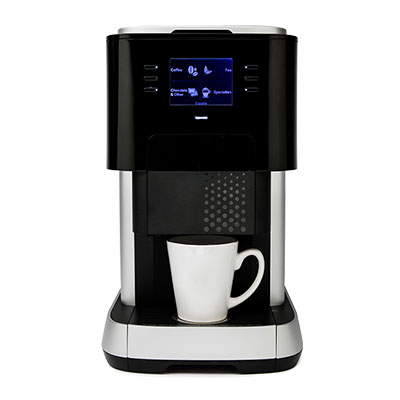 FLAVIA
Creation C500
The Lavazza Professional FLAVIA Creation 500 blends stylish design with enhanced drinks and menu display options making it easier than ever to create and enjoy the perfect brew. It's simply the perfect blend of design and performance.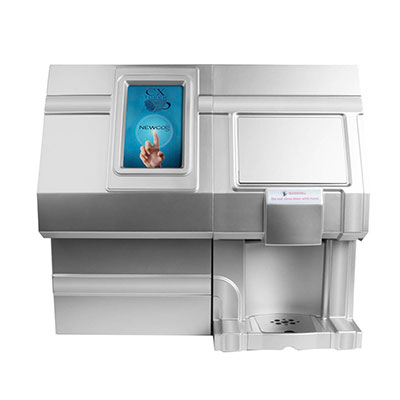 Newco
Newco CX Touch Machine
Enjoy delicious coffees, latte's, cappuccinos and more with the CX Touch. Blend soluble milk and chocolate with individual PODS of coffee and tea to create coffee house quality drinks. Simply scroll through the high resolution touch screen, select your drink, insert a POD and your drink is prepared in under a minute. No need to leave the workplace for great tasting coffee.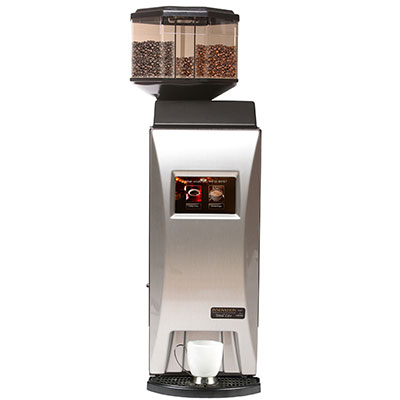 Cafection
Total Lite
Total Lite is the sleekest bean to cup coffee machine from Innovation Series. It offers the advantages and quality of a Cafection coffee machine with less space requirements! This top quality coffee machine, with its three bean hopper and two soluble canisters, offers a great selection of coffees and hot beverages that will meet your customers needs. The Total Lite comes with either a black or silver fascia, on which we can add your logo to customize your machine. That environmentally friendly and sustainable brewer is the perfect machine for smaller offices or companies.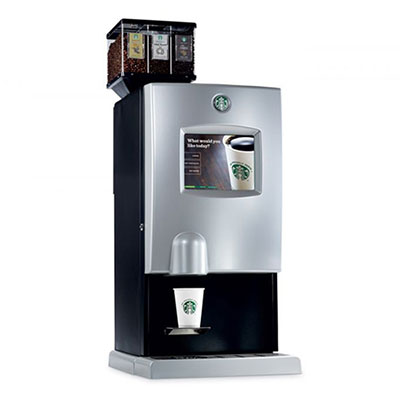 Starbucks
iCup
The Starbucks Interactive Cup Brewer is an attractive and easy to use machine that delivers premium Starbucks® coffee whenever you want it. Simply press the button and the Starbucks Interactive Cup Brewer grinds roasted coffee beans and produces a perfect cup of coffee brewed to Starbucks' impeccable standards. The brewer serves Starbucks whole bean coffee, Starbucks gourmet hot cocoa, and has space to display Starbucks Tazo tea bags. This brewer is best suited for offices of 50 or more.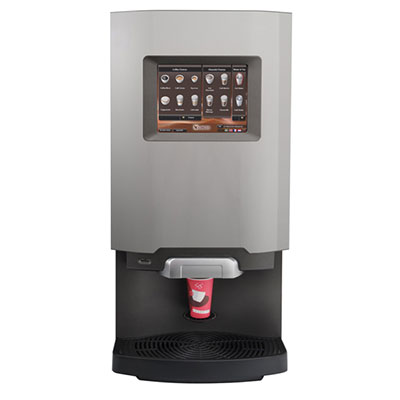 de Jong Duke
Virtu 90 Series
Working with both whole beans and ground coffee, the Virtu 90 Series offers a wide variety of coffee and specialty drinks. The unique CoEx-brewer is able to make both regular coffee and espresso through a unique pressure switch.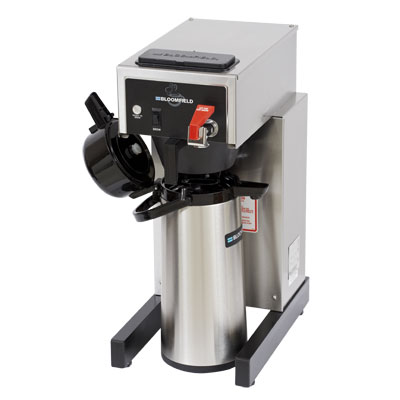 Thermal Airpot Style Brewers
Brew a pot and it'll stay fresh for hours. No more burnt coffee.
Airpot Coffee brewers offer volume brewing, proper extraction and holding capacity in a limited space. Coffee is brewed into a thermal server or airpot for easy transport to remote serving areas where the coffee will be preserved for optimal temperature and taste.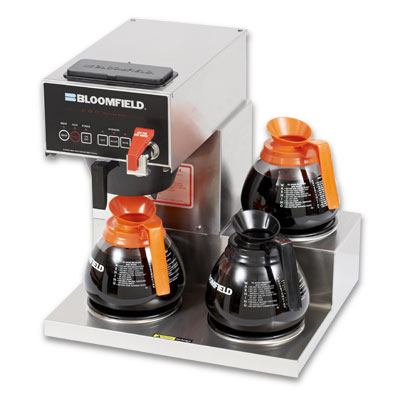 Glass Bowl
The original style commercial brewer
Still going strong after all these years. Option to use as a pour over or let us plumb it into your existing water source.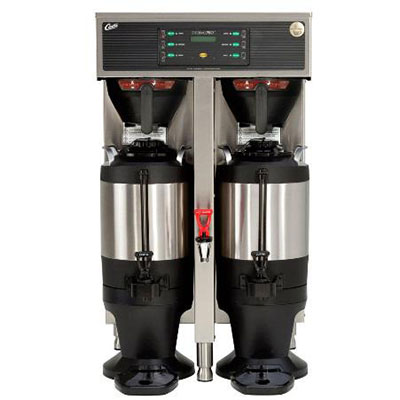 Curtis
Gemini G3
With Generation Three technology and state-of-the-art ThermoPro vacuum sealed servers, Curtis introduces the most advanced gourmet coffee brewing system on the market today. The unique Universal Control Module, easy to read display and simple interface make operating easy. ThermoPro systems are available in both single and twin, designed to optimize coffee quality and flavor, while reducing maintenance and service.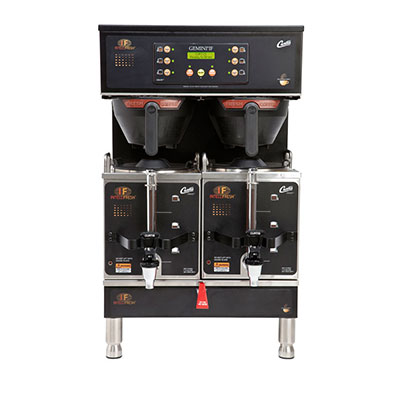 Curtis
GEMTIF Gemini Intellifresh
Curtis Gemini Intellifresh coffee brewing systems use Intellifresh Technology to continously monitor and hold the temperature of your coffee by gently adding heat to preserve coffee flavor. The exclusive design envelops the satellite vessel with gentle, digital controlled warmth, so the last cup you serve will always taste as fresh as the last.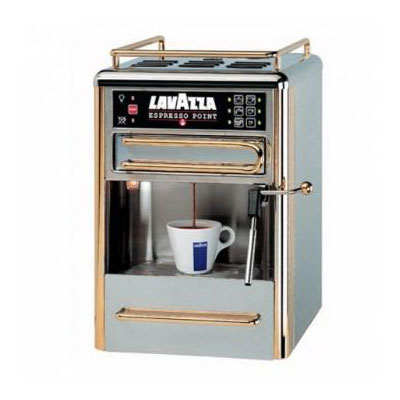 Lavazza
Espresso Point
Chrome plated and elegant, this commercial coffee machine makes a perfect cup every time. Designed to simplify the specialty drink brewing process, it's ideal for offices, restaurants or cafes. It's the quickest and easiest way to get professional-quality espresso.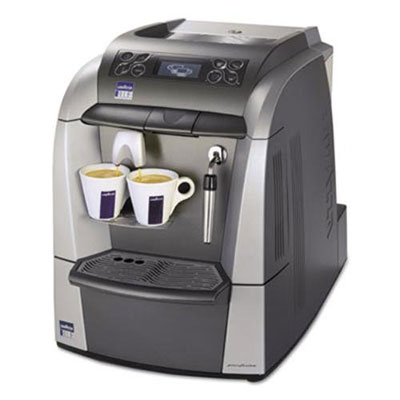 Lavazza
Blue LB 2312
The Lavazza Blue LB 2312 is ideal for small restaurants and cafés, as well as for offices. Pininfarina packed perfection into a small, efficient machine. Equipped with a one-gallon water tank, this machine features pre-programmed one-touch buttons, a double spout for making up to two espressos at a time and a steam and hot water wand.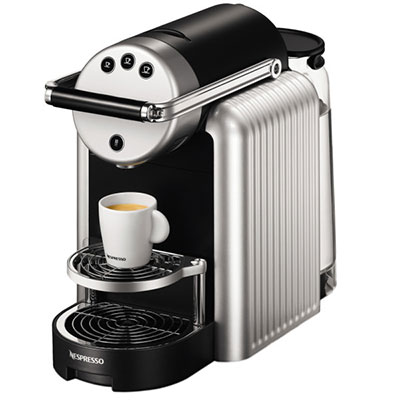 Nespresso
Zenius ZN100 Pro
Discover the latest innovation by Nespresso offering an exceptional coffee experience from a highly reliable machine at an affordable cost for all business, no matter how large or small. Ideal for any size of business where quality, intuition and simplicity are all important. Thanks to an integrated SIM card, Zenius can communicate with our Customer Relationship Centre. This allows us to deliver services before you even know you need them. Fast and efficient, exceptional coffee and hot water are prepared quickly, at the touch of a button.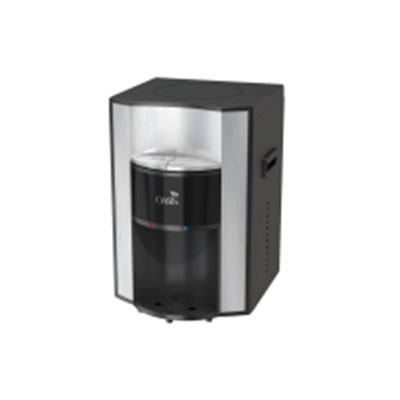 Point of Use Water Filtration Coolers
No changing of bottles, deliveries or storage of bottles
Unlimited great tasting water – never run dry
Saves time, space and is cost effective
Various floor standing and counter top models avaialble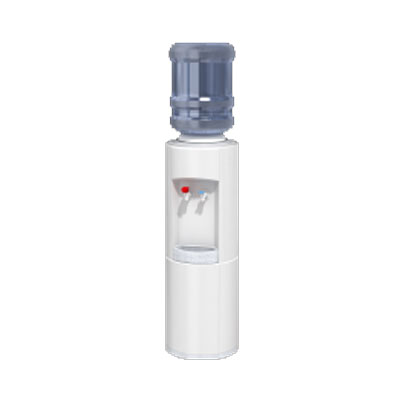 Bottle Water Coolers
Traditional 5 gallon or 3 gallon spring water bottles
Spring water bottled directly at the source
Spill proof bottles; easy to handle and load into the cooler
Variety of floor standing and counter top cooler models available